Multi-Pro Tailgate
As General Motors has always done they are industry leaders and are continuing to show off their innovation whether it be in their cars or trucks. In this case GM has added a new feature to their GMC Sierra pickup trucks. The new feature comes in the form of an industry-first hi tech tailgate. I know what you're thinking, how hi-tech can you get with a tailgate, the final product may pleasantly surprise you.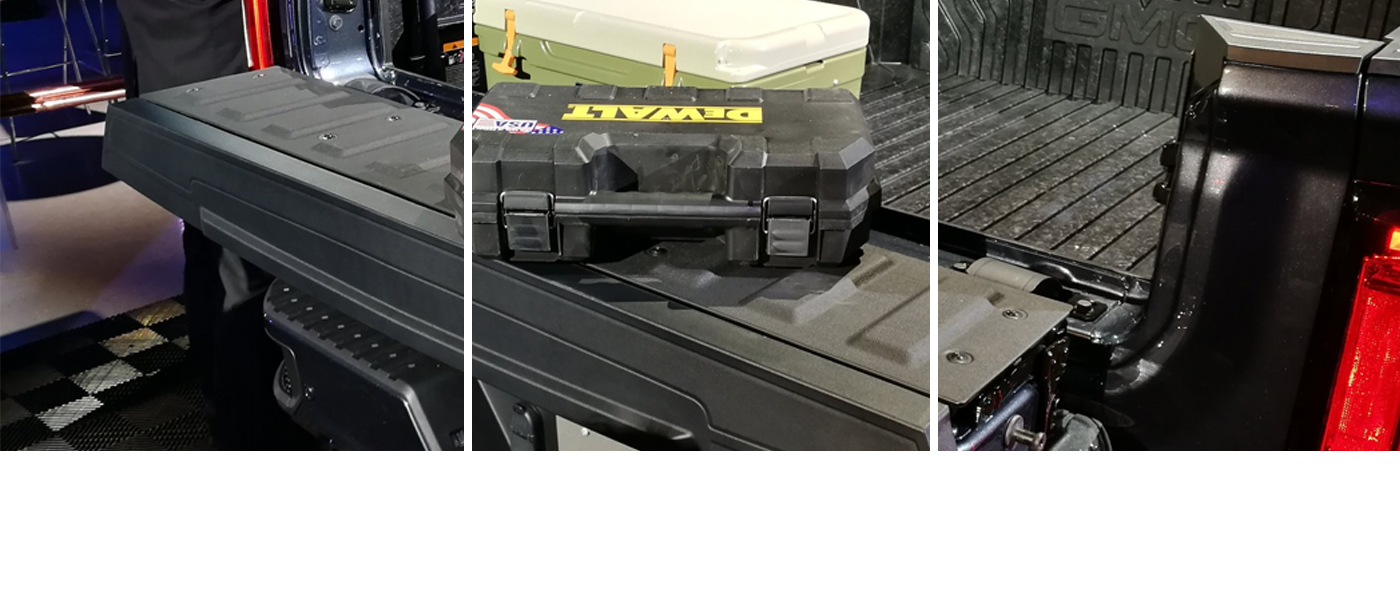 convenience
The GMC Sierra's redesigned tailgate will certainly add ease to your work day or even just loading a few items into your bed. As you see in the image below, you will notice what looks like a two-piece tailgate and that's exactly what it is. You may not want to put the whole tailgate down because your gear is right up against the tailgate itself. Of course you don't want it falling off the truck so this tailgate will help significantly with loading and unloading items. This will also aid in hauling longer items such as drywall or plywood. The design kept in mind dimensions such as these items to make sure it can accommodate cargo just over 48 inches. The new tailgate offers six different features that increase the ease of use for Sierra owners. First off is the incorporated load stop feature that can manage extra long loads by dropping the tailgate and flipping a panel up to increase your bed's length around 2 feet.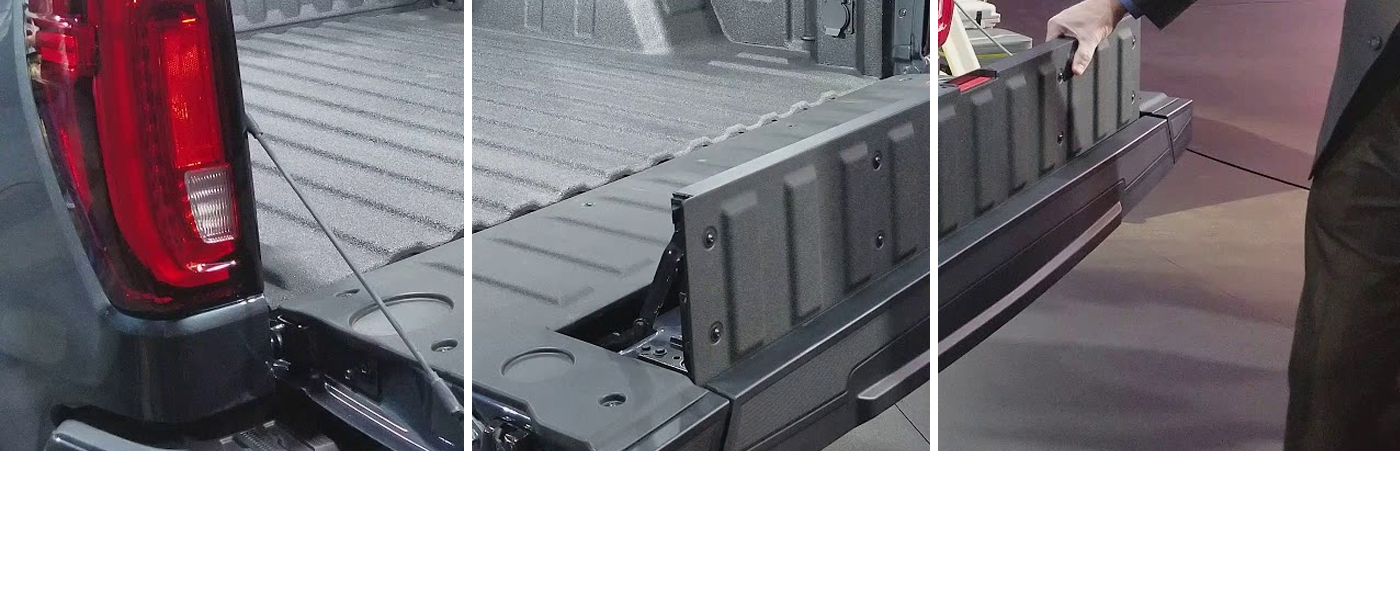 safety options
The second feature is placed into the tailgate to allow you to get closer to your cargo. By this I mean that an inner gate exists that drops down to provide additional reach. Anyone owning a truck knows that a few extra inches of reach can make a world of difference when there are objects further in the bed. I think we all have that funny image of ourselves dramatically reaching in, maybe a foot off the ground, and grunting just to reach that extra inch. This clever feature should eliminate most of those unfavorable, rather comical moments.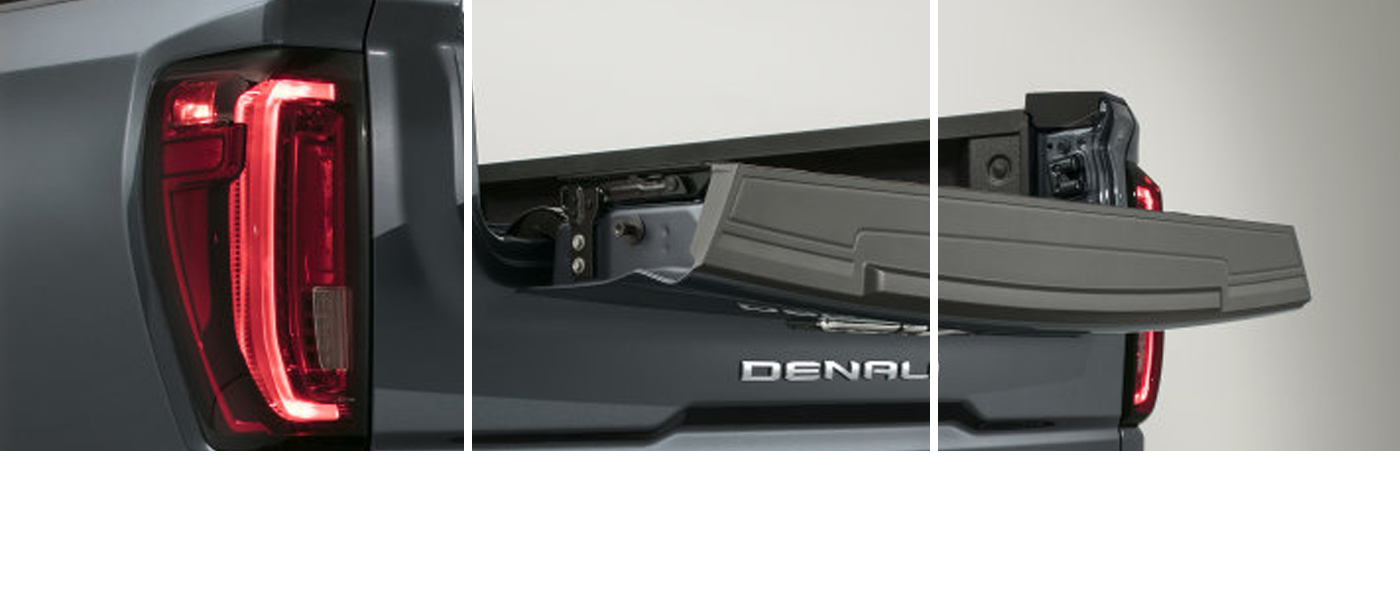 but wait there's more
While the inner gate is folded down you can utilize the same flip out for the bed extension for a foot step to make getting in and out of the bed much easier. You won't have to climb up on the bumper then swing your leg to get into the bed. It is just about as easy as walking up a set of steps. Mounted behind the tail light there is an assist handle if you need that extra help stepping down off the tailgate. Even with all of this technology built in to the new Sierra, the tailgate still functions as a traditional tailgate. These are simply added features to increase the usability of the 2019 GMC Sierra pickup trucks.